Rush Limbaugh on Thursday pointed to GameStop stock as the latest example of Washington elitists coming after ordinary Americans.
The radio host explained that users of the social website Reddit figured out how to "game the system." They joined together to turn the stock market in to a "profit-making device for themselves."
During last week's squeeze we saw GameStop shares go from $17.08 to a whopping $342.51 at Tuesday's close. Rush was quick to jump in reiterating his stance on the market and where American's, especially retirees, should land.
"Folks, it's not just political now. The elites are bent out of shape that a bunch of average, ordinary users have figured out how to make themselves billionaires," Limbaugh said. "I've been studying it all morning and the best thing I can tell you is … whatever you think is going on in politics, Washington establishment, the Deep State, what have you, it's the same thing in finance."
Millions of amateur traders are sticking it to the man for 2008 (and much more) and the ones yelling market manipulation are indeed the ones manipulating.
The finance market is rigged against the American people and Wall Street billionaires, including hedge funds, are profiting daily from this.
We need only to point to Melvin Capital who lost 53% in January, equivalent to $7 Billion, and Gabe Plotkin (a former SAC Portfolio Manager), who lost over $5.3 billion in one month. All due to the Reddit short squeeze movement.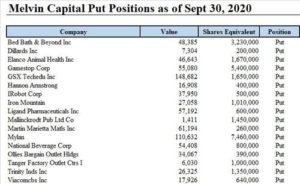 All this points out obvious flaws in the market we've known for a long time.
Playing the market unfairly by manipulating stocks on a mass scale is "legal" and ethical when done by them, yet when the American people play by the same rules, the game is suddenly "unfair" and "illegal."
"Now they're actually making it clear to anybody that has the ability to notice that you're not allowed to use the stock market the way they do, you're not allowed to profit, you're not allowed to make the kind of money they do," Limbaugh said.
Following the squeeze, GameStop's stock was then paused, freezing anyone's ability to purchase or sell their positions, meaning the market was manipulated illegally.
It is illegal to manipulate a single stock, which hedge funders do daily, yet when a group of small investors use the stock market the way they do, it's stopped immediately.
"This GameStop business now makes this something that is understandable beyond the political world and that is its value. It's not just political anymore. It's not just that you can't think for yourself, on issues, and matters of politics … everything is rigged in favor of the elites and this has come along and set that rigging."
More shorts are on the horizon, says Rush.
A run on silver is another interesting topic that was picked up on Reddit.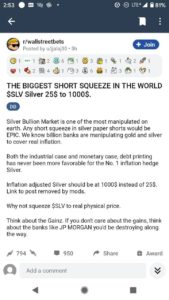 Since precious metals are outside the financial system there would be no way to stop this. By doing a run on silver and silver has short positions, it can even boost prices up. If silver was at fair market value it would be priced at $6500 an ounce from $27 today.
Why silver? Silver is the Epitome of Wall Street manipulation and its Achilles' heel.
Want to know the 7 reasons a squeeze on silver is not only possible but probable?
It's naturally occurring, available quantity of gold/silver has a ratio of 1:8, yet the price ratio is 1:70! This ratio could drop massively increasing the silver price. Silver is sing lighter than gold and the mines were close to the surface of the earth and most have been depleted. Today over 2/3 of silver is mined as a by-product above-ground. The actual above ground ounces of silver is less than gold.
Green and other future technologies will require a lot of silver for efficiency purposes since it's the absolute best element to to conduct electricity and has other unique properties that no other cement can substitute.
Silver is still 50% down from its all time high 10 years ago – the quantity of silver mined has been lower and even decreasing that then increase in inflation and silver is a good hedge against both inflation AND deflation, historically speaking. If accounted for monetary inflation the natural equilibrium price should be around $1000 but this can be pushed higher due to massive short interest due to bullion banks.
Historic justice: the silver price has been historically kept down for nearly 100 years. First, by the US government from 1935-1970 because it was too effective as a hedge against inflation. Afterwards, confirmed by Wikileaks, the US and London bankers took over this role by pushing the creation of the precious metals section at the COMEX so banks could artificially keep the price down.
The precedent: it has happened before during 1979-180 when the price of silver went from $6 to $50 due to the Hunt brothers hoarding the physical and buying more via futures that were supposed to be delivered. COMEX changed the rules before the delivery eventually leading to the end of the squeeze
The game of musical shares: There is an enormous shortage between the silver traded on paper and actual silver due to the elite and financials game of musical chairs. There is a MASSIVE divergence between silver traded on paper and actual physical silver. Around 200-400 times more paper silver than physical. GameStop is NOTHING compared to this.
They can't issue more silver unlike the ability to issue more stocks or fiat currency. It's an extremely safe store of value as electronic means of payment all depend on electricity and electricity depends on silver. Also it's an amazing hedge against unavoidable future inflation. It takes YEARS to properly set a new mine.
Reddit's WallstreetBETS already triggered a small run on silver (shown in the image above).
Investors bought 28.3% of last years ETF total in a single day, and silver is now sitting at $27.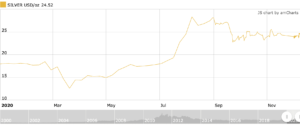 If these investors and the American people can squeeze silver it's the end of Fiat currency.
If we all bought silver and gold it would bring the markets to their knees. It would be a serious situation and expose the manipulation of precious metals.
It will bring silver to its true value of around $6500 an ounce. 
This is one boat you can't afford t0 miss. It could mean profiting massively and living your golden years in comfort beyond your imagination, or losing it all when the house of cards inevitably blows.
If your 401(k) or IRA are not in a self-directed account you are the most vulnerable to the failing of the system.
Silver and gold, have and always will be God's money. They are most secure means of protecting your wealth and hedging against the rigged system.