The legendary Rush Limbaugh, who is currently battling a terminal cancer diagnosis, opened his final broadcast of 2020:
"My point in all of this today is gratitude," he said. "My point in all of this is to say thanks and tell everybody involved how much I love you from the bottom of a sizable and growing and still-beating heart."
Infamous Limbaugh has been loved by many through the years and will certainly go down in history as one of the greatest Republican broadcasters of all time.
At only 69, Rush is battling Stage IV Lung Cancer and was awarded the Presidential Metal of Freedom by President Donald Trump at the state of the Union address in February 2020.
Limbaugh singled out his wife during the broadcast, as well as other members of his family, for supporting him during these trying times and throughout his long career.
"I wasn't expected to be alive today," he said. "I wasn't expected to make it to October, and then to November, and then to December. And yet, here I am, and today, got some problems, but I'm feeling pretty good today."
The diagnosis was shocking for Limbaugh, his close circle and listeners worldwide. Adding the battle has been hard on him personally and on those close to him.
"I can't be self-absorbed about it, when that is the tendency when you are told that you've got a due date," he said, choking up. "You have an expiration date. A lot of people never get told that, so they don't face life this way."
During the broadcast, Limbaugh was quick to praise President Trump and strongly object President-elect Joe Biden's statement Tuesday that America's "darkest days" were ahead in the coronavirus fight.
"What a bleak way of looking at things," Limbaugh said. "It's never time to panic, folks. There's never, ever going to be time to give up on our country … It'll never be time to give up on yourself. Trust me."
The admiration is mutual with Trump tweeting:
Rush is the GREATEST! https://t.co/W0LhbM2bSt

— Donald J. Trump (@realDonaldTrump) December 24, 2020
Limbaugh has been on broadcast air since 1988 is considered one of the most influential media members of the last half century. He has grown his show into the most listened-to radio show in the United States. Limbaugh has also been inducted into the National Radio Hall of Fame and National Association of Broadcasters Hall of Fame.
As Rush has mentioned many times, world business leaders everywhere are talking about 'The Great Reset.' This is the Globalist plan to usher in socialism and crash the world economies.
This means the declining dollar will be close to worthless and those who are awake to this evil plan are getting their money and families safely ashore while they still can.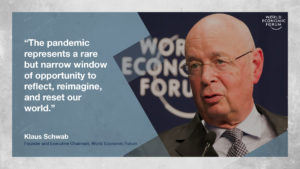 The US dollar is failing by the minute, retirement accounts such as 401(k)s, IRA and annuities are directly tied to the US dollar through the stock market.
This is why retirees across the country are rushing to get their nest egg out of the stock market and into safe havens like gold, precious metals and the like.